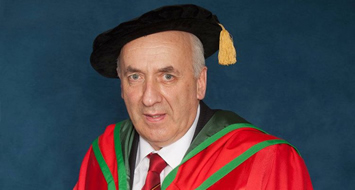 The University of Ulster today Conferred the Award of Honorary Doctorate in Science (D.Sc) on Ulster GAA Secretary & Director Danny Murphy for his services to Sport and Community Relations.
Uachtarán Chumann Luthchleas Gael (President of the GAA) Liam O'Neill said: "This is a proud day for the GAA and Ulster. We are delighted that Danny Murphy's long standing and immense contribution to our Association has been recognised in this way by the University of Ulster. Danny's vision and leadership has been at the core of the GAA's Community Engagement and Outreach work, which has a strong and positive impact right across the Community.
"I am personally delighted to see Danny receive this level of recognition for all his hard work and know I speak on behalf of the wider GAA family by acknowledging this accolade. We wish him many more years of active involvement at all levels of the GAA."
Uachtarán Chumann Luthchleas Gael Comhairle Uladh (President of Ulster GAA): Aogán Ó Fearghail said: "The entire GAA in Ulster will be delighted at the news today that our Provincial Secretary and Director has been honoured by the University of Ulster for his considerable work in both the spheres of Sport and Community Relations. Danny Murphy's contribution to the GAA has been immense, a former Vice President of the GAA and President of Ulster GAA he has been Chief Executive Officer for the Ulster GAA since 1998 and it is no coincidence that the last 14 years have been a time of considerable change, improvement and success for the entire GAA in Ulster, Danny has been core to all of these developments.
"Danny has overseen more than £100 million of investment in GAA projects and has put in place a strong strategic vision which has resulted in an unprecedented level of success for this Province. Danny's vision and leadership has been core to the GAA's Community Engagement and Outreach work which has a strong and positive impact right across our Community. On a personal level I am delighted to see Danny receive this level of recognition for all his hard work and I thank the University of Ulster for bestowing this honour on both him, his family and his Club St. Mary's Burren GAA."
Senator Dr. Martin McAleese 
I am delighted that my friend Dr. Danny Murphy has been honoured for his significant work in the fields of sport and community relations. Danny has led the GAA's community engagement work for over a decade and has played an important role in promoting reconciliation and friendship across the Community. Danny has done this work in a quiet and respectful manner and has never sought recognition of any kind and that is why today's award is particularly fitting.
Rt Hon Peter Robinson MLA First Minister and deputy First Minister Martin McGuinness MP MLA
We both congratulate Dr. Danny Murphy on this well deserved accolade. His outstanding contribution to the development of sport is to be commended. Danny has also played a significant and important role in promoting reconciliation, tolerance and respect across our Community by outreaching and engaging with many different groups and individuals. We both pay tribute to him and we look forward to working with him in the years ahead.
Trevor Ringland
Over many years you have shown through your leadership and grace that despite our past we can build a genuinely shared future where we all work and live together constructively for the benefit of us all. By your words and actions, using courage and friendship, you have proven we can create that sense of interdependence between the people of this island, no matter what an individuals view is on the constitutional position, and that is surely the greatest tribute we can pay to all of those who lost so much due to our past.
—
Below is Danny's conferment address
Vice Chancellor, Dr. Hasson, Graduates of the Class of 2012, Ladies and Gentlemen, distinguished guests.
I am grateful to the University and to you Vice Chancellor for bestowing this great honour on me today. It is also a great privilege to be among the youthful Class of 2012 who today with their families are celebrating their hard work and success while dreaming about the future paths that lie ahead and I hope all are thinking about how you play your part in that future.
My life has been an interesting journey from Grinain in South Down to being here today. I am a proud Down man who comes from the Gaelic and Irish tradition, a tradition that has enriched me and that I am committed to and a tradition that was passed down to me by both my parents who along with my brothers and sisters introduced me to the Gaelic Athletic Association; its workings; and the games of Hurling, Football and Handball.
My hero Dr. Martin Lurther King once said "I have a dream that my four little children will one day live in a nation where they will not be judged by the colour of their skin but by the content of their character." Serious words, by a great man dealing with serious issues in a difficult time.
The GAA has moulded me and ultimately led to me being before you today. It is and remains an organisation where people are judged not on their religion, political identity or social class but like Martin Luther King urged, on the content of their character. That is why it has been and remains so important for me and hundreds of thousands of others in Ulster.
My family tradition and Gaelic cultural identity have both enriched and improved my life and given me a set of values that have served me very well. My parents taught me the importance of being confident in my own identity and having the utmost respect for others who might be different. My philosophy is simple: you cannot celebrate who you are if you don't respect who others are.
To quote Dr. King again: "I say to you today, my friends, that in spite of the difficulties and frustrations of the moment, I still have a dream."
We still face many challenges as a society, there is still sectarianism and there is still hate however there is also hope. Many of you that sit in this auditorium today will thankfully not remember the dark days that this community faced in the past; there has been an unbelievable journey that this community has taken over the last 20 years; there is still some road to travel. Many have suffered and many still feel pain but today however I can safely say your future will be centred around a peaceful and reconciled Country.
My Club is St. Mary's Burren and we have a simple motto and I would urge all of you who are graduating today to make this the motto of your generation "Ar Aghaidh le Chéile" or simply "Onwards Together." We are all celebrating here on Independence Day and we should be aware that society benefits on interdependence of people who work for its enhancement for all of us.
The GAA is a wonderful and unique organisation. It has many strengths. Among them are its attachment to place and community and its unmatched ability to allow people to make statements about who they are and where they are from. In doing that, it is not 'anti' who anybody else are or where they might be from. Another core strength is the voluntary work carried out by the thousands of committed and dedicated GAA people. This idealism makes the GAA the envy of all other voluntary movements across the world. I like to think that idealism is also at home here in this institution, the University of Ulster.
The GAA is now by rule an anti-sectarian and anti-racist organisation that is committed to a shared future based on tolerance and respect, and while like all of society we still have legacy issues to address we want the indigenous games of this island to be shared by everyone in our community.
I am also a proud Ulster Man. Our great and shared Province is an example to the entire world; this building in this thriving and diverse city is the embodiment of the future we all can build. Positivity, innovation, confidence and trust are the pillars on which we can build a better and shared future however all of this depends on the willingness of all of us to engage, respect and work with each other. In the words of Margaret Mead "Never doubt that a small group of thoughtful, committed citizens can change the world. Indeed it is the only thing that ever has."
I have a privileged life, a life of quality; of excitement, joy and some success. Mahatma Gandhi once said "The best way to find yourself is to lose yourself in the service of others." When the service of others doubles up with doing something that you're engrossed in and in the company of people you admire and respect, then you're fortunate indeed. I am that fortunate man.
I work with many groups of committed volunteers in the GAA. These are people who give their time; their expertise; and their money freely to their Community and their sense of place, the GAA is an extension of family. I can't miss but point out that much of the expertise that now helps drive the GAA at all levels in Ulster was developed within and handed on by this University; we are very aware of your continuing legacy. All of the Ulster Council and its Officers are volunteers and it's a privilege to serve alongside them. I lead a dynamic, youthful, innovative and sometimes aggressive staff team. They are dedicated to excellence; to the GAA; and to servicing the Counties and Province of Ulster. I am grateful to them all for their unflinching and happy commitment to our shared work and vision.
Today as I reflect on my own journey I think of all of those who contributed to the tapestry of my life. They include men like John Vesey and Peter Harte, former Presidents of the Ulster Council; people like my friend Gerry McGovern and my former teacher Colm Powell who introduced me to the games of Hurling and Football and a man who had a profound impact on my life as well as on thousands of others, the late Sean Murdock. I also would like to think all of those who have shown leadership throughout the GAA and this Community during my life.
I also think of my parents; my family; and my wide Circle of friends both inside and outside the GAA. I think of all the young people whose lives were cut tragically short in particular my nephew Mark, Aidan McAnespie, Paul McGirr, Cormac McAnallen, Ronan Kerr and Michaela McAreavey among so many others who no longer walk with us on our journey.
I dedicate this doctorate to my family, to all of those who contribute to making Ulster, or their part of it, a better place and to those who are no longer with us on the journey and whose memories we cherish and fully appreciate.
We are great people, a society with talent, creativity, vision, confidence and passion; our capacity to do good is limitless and there is no obstacle we cannot collectively over-come.
I accept this Doctorate proudly and I thank the Vice Chancellor and Dr. David Hasson for nominating me for this award. But even with it proudly in my tight grip, to quote the unofficial motto of Ulster Council GAA "the work goes on, the cause endures, the hope still lives and the dream shall never die."
Let me finish with another quote again from my hero, Martin Luther King, and I ask all of you to take this as a small piece of advice with you as you embark upon a new and wonderful phase of your journey through life:
"Everybody can be great … because anybody can serve. You don't have to have a college degree to serve. You don't have to make your subject and verb agree to serve. You only need a heart full of grace and a soul generated by love."
So graduates of 2012 go forth and dedicate your lives to the service of each other and of our community.
Go gcuire Dia rath agus blath oraibh.
Encomium – Dr. Danny Murphy
by Dr. David Hasson
Chancellor/Vice Chancellor it is a privilege to introduce Danny Murphy, Provincial Secretary and Director of Cumann Luthchleas Gael Uladh, the Ulster Council of the GAA, in recognition of his outstanding and sustained leadership roles in the fields of sport and community relations over several decades.
Danny has had a lifelong association with the GAA from his playing days with the famed Burren club in county Down to his involvement as manager and selector with Down U-21 and senior teams, including the 1994 All Ireland side that claimed the Sam Maguire trophy for the second time inside 4 seasons. Yet arguably it is in the field of sport governance that Danny's contribution has been most pronounced and has defined a career marked by an unparalleled evolution of the GAA in Ulster, specifically the development of strategic partnerships to address wider social and community issues and a recognition of the role the GAA can perform as a key civic institution in Ireland towards fostering greater community cohesion, better understanding of contrasting cultural identities and a recognition of our shared traditions and heritage. Danny started on the ladder of GAA governance when he served as Assistant Secretary of Down GAA in the early 1980's before being elected Chairman of Down GAA in 1990 just in time to see Down win the All-Ireland in for a forth time in 1991. In addition to serving as Treasurer, Vice President and Finally President of the Ulster Council of the GAA Danny Murphy became the Chief Executive of Ulster Council of the GAA in 1997.
A former Vice President of the GAA, Danny has also been Chair of several key Central GAA Committees include the first GAA ICT Committee and Committee on the Amateur   status of the GAA. Recognising the important family and community elements of the GAA Danny was the driving force behind the GAA's integration process, which encouraged different male and female Gaelic Games Club to amalgamate at community level in to one overall Club structure this resulted in the 3 organisations (The Ladies Gaelic Football, Camogie and GAA) coming together with one membership structure.
He was also a member of the Ground breaking Strategic Review Committee established to develop a blue print to guide the future of the GAA in 2002. Danny has overseen the development of major infrastructural projects throughout Ireland, notably the redevelopment of Ulster's nine County Grounds all of which have been upgraded significantly and was also highly involved in the redevelopment of Croke Park. Danny currently leads the ongoing programme of work that will see Casement Park here in Belfast transformed into one of the leading sports stadiums on this island. In the last 6 years Danny has secured more than £120 million worth of investment for Ulster GAA, which in turn has helped secure approximately 3000 full time jobs at a time of much needed employment. He was also a key supporter of the construction of a multi-sports stadium at the former Maze Prison site, which sadly failed to materialize, but again his advocacy on behalf of this project merely reflected his desire to establish enhanced working relationships between all governing bodies of sport in Northern Ireland, principally the Ulster Branch of the IRFU and the Irish Football Association.
Danny also overseen the significant rule change approved by the GAA at its 2008 Congress which saw the Association move from an non sectarian and non racist stance to an active anti sectarian and anti racist policy
Indeed when one considers that it is not very long ago that sport served as something of a proxy for community identity in Northern Ireland, the transformation around how the GAA is now viewed by those that would not typically have formed its membership represents a lasting legacy to the leadership of Danny Murphy. Nowadays young Protestant children are as likely to derive as much enjoyment from playing Gaelic games as their Catholic contemporaries and whilst there is undoubtedly still more work to be done what has been achieved to date has been truly remarkable. Indeed on hearing of the conferment of this honorary doctorate to Danny his close friend and colleague Senator Dr Martin McAleese confirmed that "Danny has led the GAA's community engagement work for over a decade and has played an important role in promoting reconciliation and friendship across the Community." He continued "Danny has done this work in a quiet and respectful manner and has never sought recognition of any kind and that is why today's award is particularly fitting."
It is this concept of respect that goes to the heart of Danny Murphy's unparalleled influence as a sports official in the field of community engagement and activism. A respect borne out of his Irish identity but with an upmost regard for his friends and colleagues, amongst them the Most Reverend Norman Hamilton and former Irish rughby international Trevor Ringland, who display a proud sense of Britishness, the importance of family life, a concern for the welfare of one's neighbour and a commitment to a shared future in which all are regarded as equal inform and underpin Danny Murphy's philosophy, his work with the GAA and in wider civic society. Along with President Mary McAleese and Senator McAleese Danny has worked quietly behind the scenes in promoting greater inter-community understanding, through his membership of the Church's Consortium, and by encouraging the broader GAA membership of the merits of removing aspects of its rules, such as Rule 21, from its statutes and strengthen the organization's standing in Irish society still further. Danny has also been in the vanguard of the GAA's transformation from a non-sectarian/non-racist sporting body to an anti-sectarian/anti-racist federation and whilst such a change may appear subtle it is nevertheless reflective of an absolute commitment on the part of the GAA, and by people like Danny Murphy, to the importance of all civic bodies in Northern Ireland playing their part in a better and brighter future for our young people both here and throughout Ireland as a whole.
Thus we are delighted today to recognise Danny Murphy - his vision, his unrelenting desire for improvement and enhancement, his strategic and professional expertise, his honesty and his integrity – and in so doing remind ourselves that it is these qualities upon which a better future for us all is to be founded and encouraged. Upon hearing of this well deserved recognition the First and Deputy First Ministers of the Devolved Assembly confirmed that "Danny has played a significant and important role in promoting reconciliation, tolerance and respect across our Community by outreaching and engaging with many different groups and individuals. We both pay tribute to him and we look forward to working with him in the years ahead." Indeed Danny has no intention of slowing down as he nears a well earned retirement with plans for a Law degree and a monograph in the pipeline his tireless commitment to self- and community improvement shows little sign of abating.
Thus it is with particular pleasure Vice Chancellor that I present Danny Murphy to you for the award of the Degree of Doctor of the Science, honoris causa.